Fish in Air Tulamben Dive Resort


Fish in Air Tulamben Dive Resort(Puri Tulamben Dive Resort)Located at the diving town "Tulamben" in the east of Bali.
It is only 2 minutes' walking distence from our resort to the USS Liberty Wreck, 300 meters walk to Tulamben town and 150 meters walk to the largest supermarket in the town which is very convenient for shopping.
Our resort adopts Bali traditional style buildings. Trees are in the resort shade all garden. Although it is in the tropics of 8 degrees south latitude, it is still very cool.
Each room is equipped with traditional furniture, air conditioners, fans, hot baths, mosquito killers, refrigerators... have all basic facilities.

Say No to Plastic bag !
Plastics may flow into the sea and become killers of corals, turtles and whales. In order to reduce the use of plastic as much as possible, our dive center and resorts have cancelled all bottled water. The drinking water in the room in glass bottles and replaced daily. Each room is also equipped with Bali featured rattan woven portable box, which is convenient for customers to go out for shopping.
---
Stardand Garden Room
Room for 2pax,rate include breakfast (Twin Bed / Queen Bed is optional)


There is a couch on the terrace in front of the room. The couch is cool and refreshing, which is very suitable for drinking, chatting and reading.

---
Deluxe Garden Room
Room for 2pax,rate include breakfast (room area bigger than standard garden room Twin Bed / Queen Bed is optional)


There is a 1.2m-wide bamboo cot in the room, which can be used as an extra bed.
---
Deluxe Sea-view Room
Room for 2pax,rate include breakfast. Independent balcony with sea view (Only Queen Bed)
---
Fish in Air Chinese Resturant

We have the restaurant with the best view in the Tulamben area. Sit in our restaurant, one side, you can see the full view of Agon volcano. On the other side, you can face the vast blue ocean.
Sichuan cuisine is our main cuisine. The color, smell and taste of Sichuan cuisine can not be concealed in the limited Indonesian ingredients. Like to some spicy, have an authentic Sichuan hot pot; In a good fishing season, make an appointment in advance for fresh Tuna - Tuna Sashimi, fried fish steak...
In addition to Chinese food, our Indonesian food is also very authentic. Indonesian fried rice and Indonesian fried noodles; fried fish with banana leaves and Indonesian chicken leg rice, Indonesian sour fish soup..
---
Fish in Air Dormitory It is only provided for candidates of dive master or IDC course in our dive center

A quiet Bali style courtyard, about 5 minutes drive from Tulamben town by motorcycle. Each room has its own bathroom, which can use the public living room, kitchen and laundry (self prepared materials).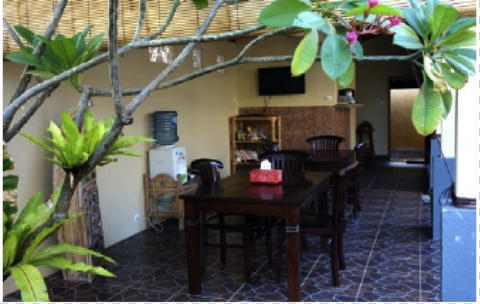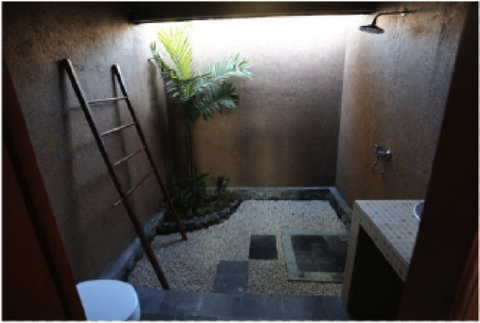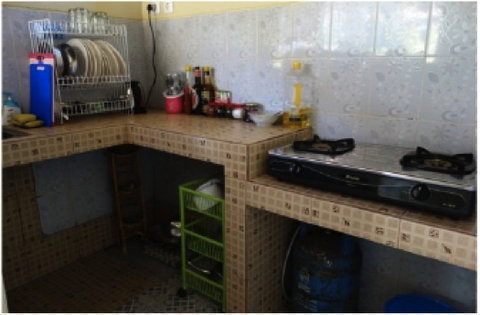 The courtyard is full of plants such as frangipani and papaya trees. Yard backed by the Agon volcano. Every day, you can see the different features of Agon. Open the carved wooden door and walk for 3 minutes on a quiet green path can reach the beach.

Tulamben is a rural area without bars and other entertainment facilities. The only activity is diving.
However, villagers can still live a healthy life, even if you are only a temporary villager.

Now please enjoy the village scenery.


1)The villager's activity during the eruption of Agon volcano in 2018
2)Celebration of Bali Nyepi -- "the day of silence"

Places to visit around Tulamben:

Tirta gangga, very suitable to photograph.


Sky Gate, you may have heard that. you can drive 30 minutes away from us and watch the sunset when passing Amed


You may not know that the most spectacular terraces in Bali are actually near Tulamben.