Diving Advice
Dive-Site Intro
Shore Dive Tips
Sefty Rules
Price List
Wreck of Micro ? How Long Should I Stay in Tulamben ?


As the most famous diving destination in Bali, Tulanben have a lots of good dive site.
If you have enough time, try not to be a "short time visitor". The east coast of Bali is worth to exploring for a few days.

First, although the US Liberty Wreck is the most famous dive site, as far as wreck are concerned, there are wrecks of different sizes, depths and stories in Kubu area and Amed.

Second, underwater landscape is not just coral. There are coral reefs on the black sand, cliffs with full of sea fans, and sand fields full of sea grass. Different underwater structures determine the diversity of underwater creatures here.
Third, when it comes to marine life: Among the big things, the Liberty Wreck has a big group of humphead parrot fish, the Drop off has Jack fish storm, sometimes you can see even mola and whale sharks pass by at this site. There are countless small things, such as harlequin shrimp, tiger shrimp, Pikachu nudibranch, hairy shrimp, donut nudi, mimic octopus, frog fish......
So, How long should I stay here?

We made some recommend day trips. You can combine them according to your own preferences, so that you can enjoy your time in Tulamben.
Fisrt Day,"Clock in Tulamben" 3 Dives: US Libery Wreck, The Drop off, Coal Garden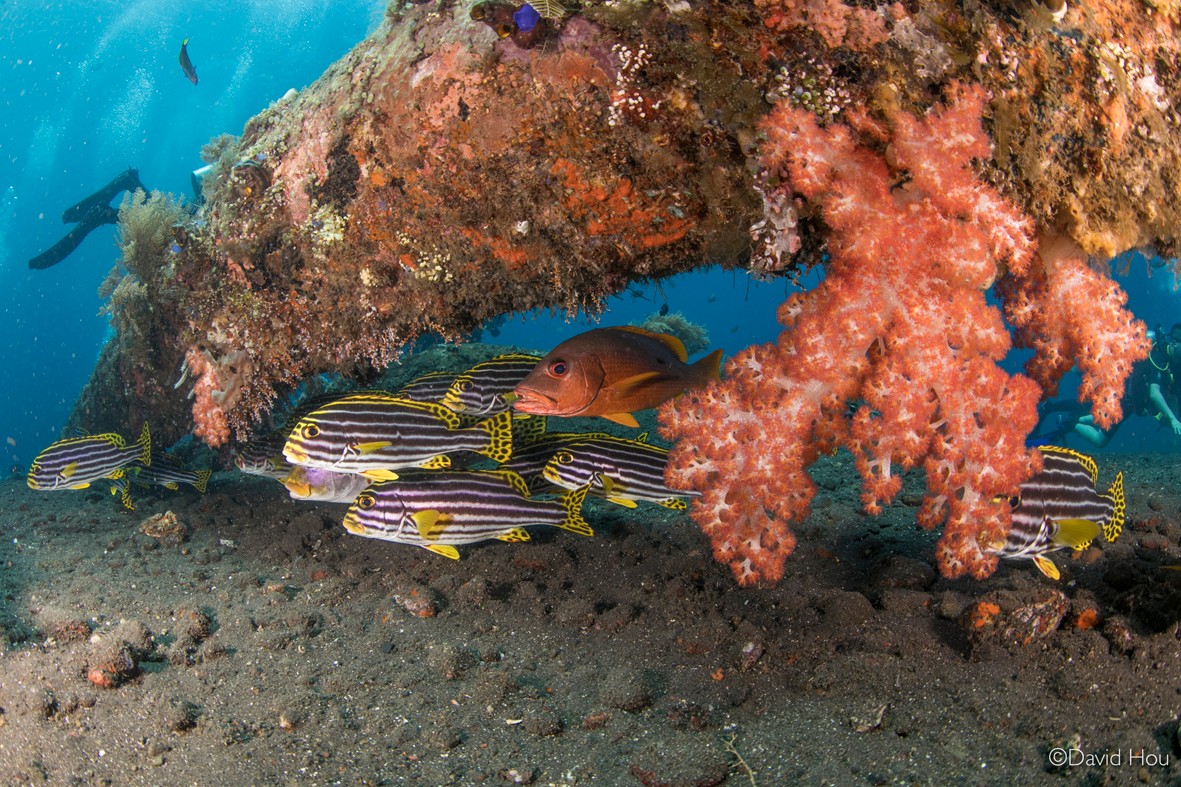 ---
Second Day,Join the early morning dive. Depart at 5:45 am,to watch big group of bumphead parrot fish.
9 am: go to Kubu Wreck and Siddatha reef, 2 diaves.
afternoon: have a rest or go to Batu Belah to watch underwater valley.


Third day, go to Emerald by "jukong" to watch white tip sharks, and then to Batu Kelebit see beautiful corals.
Night dive go to Liberty Wreck, to watch groupers fight gaint eels.
(There is an additional cost of $15/boat/dive for boat diving. jukong can take 3 people, including a dive guide)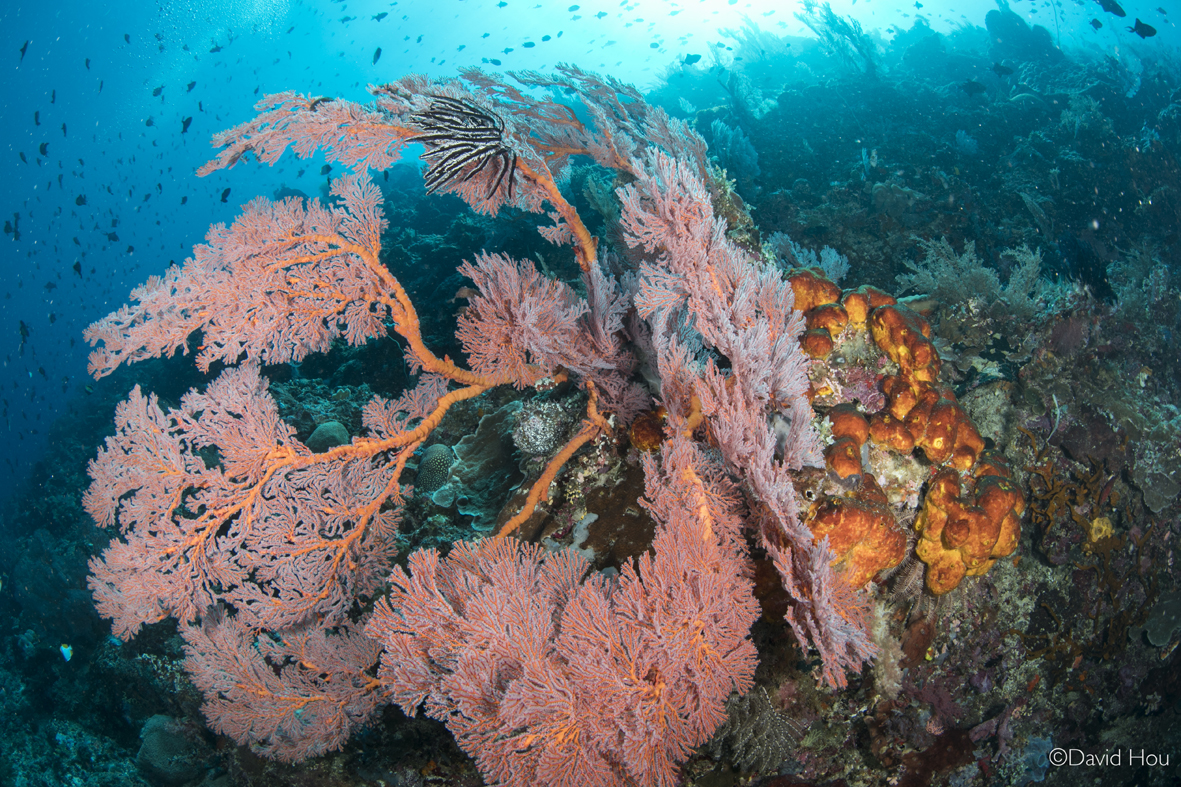 If you love macro photography, the journey will be long. There are many macro dive site in Tulamben, even same dive site, you may find different things every day. If you want to see everything interesting, you have to like us - resident in Tulamben.
The following dive site can be combined freely(except Wreck slope,There will be a round-trip fee of 5 dollar/person for the following dive site)
One day: two morning dives go to Seraya to see pigmi seahorse or takaka, afternoon goto Wreck slop feel the charm of Macro dive.

---
One day: two morning dives go to Melasti to see "Sheeps" and "Donuts",afternoon go to Kuan Ji, if you lucky, you have chance to see brooding cuttle-fish.

.
One day: two morning dives go to Sidem to find renopias and banboo bee shrimp,afternoon go to Batu Niti to see "Pikachu strom"

Finally, the special dive site that every Fish in Air diver can't miss——T-reef
We have devoted a lot of efforts to this dive site which can be reached by walking distance:
FIA-HOO (Fish in Air and Heart of Ocaean) coral garden locate at T-Reef slope,
It is an artificial coral reef that took us two years to establish, cooperation between Fish in Air and Heart of Ocean, a Chinese marine protecting organization.
We assisted Chinese young artist Peng Yili to build this underwater puzzle sculpture group on the slope of T-Reef. Today, it has become a paradise for marine life.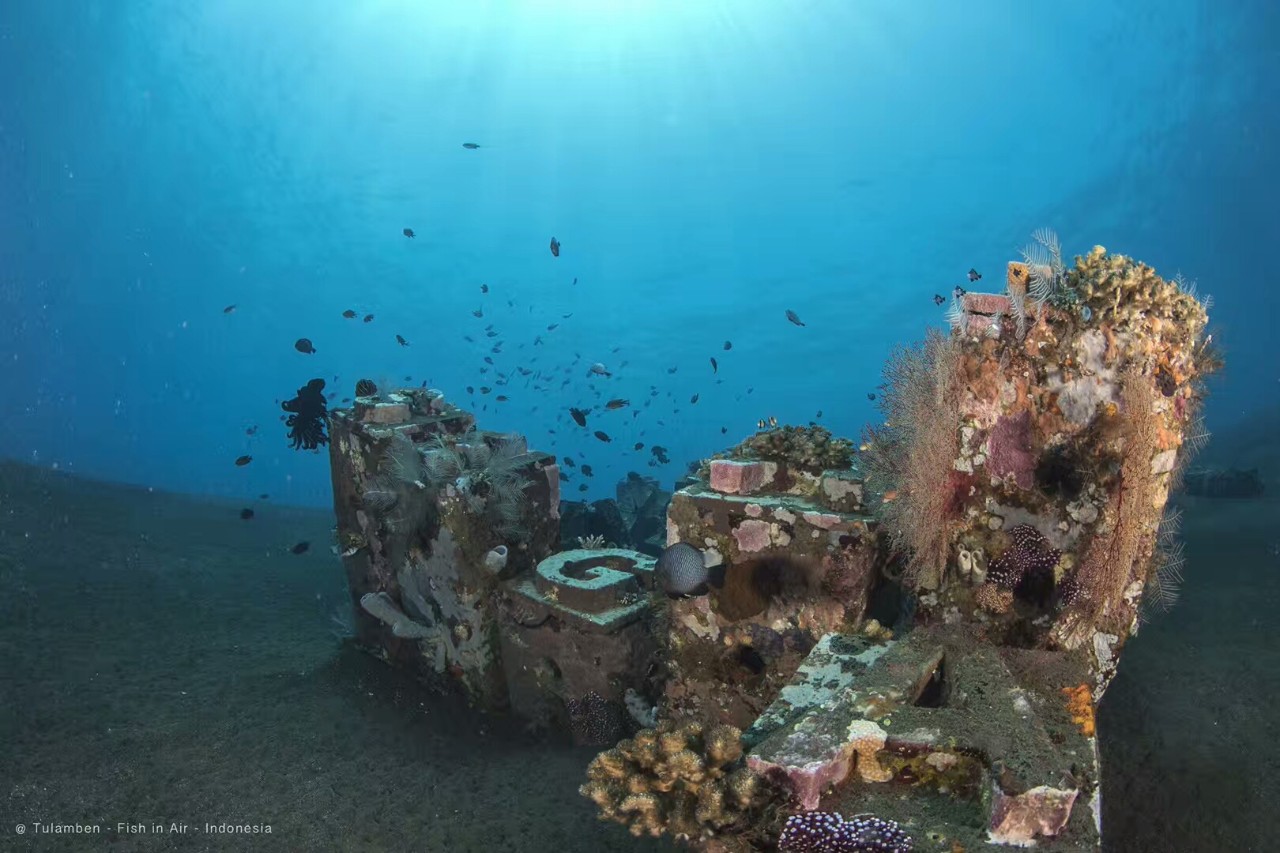 A group of Jackfish and Jellyfish flying above Yili Puzzle
---
We divide the sites in this area into five regions, with Tulamben region in the center extending to both sides.
---
A.Tulamben Area
There is no traffic extra charge for the four dive sites in this area. Highlight: the USS Liberty Wreck
USS Liberty Wreck Grade:★★★★★ depth:5 - 30m

The USS Liberty Wreck, the most famous and accessible dive site in Bali. This magnificent wreck sank on the black sand bank of volcano, covered with beautiful corals, and hundreds of fishs took it as their home. The wreck is about 50 meters after walking into the water. The split hull can swim in from any opening with a large space, without the sense of closure of an normal wreck. The wreck about 100 meters has been completely covered by coral, and all the fishs in the boat are very famous. At the bottom of the deeper sand, there are huge sea fans. Divers who like small things like to use a flashlight to see if there is a small pigmi seahorse or a long norse eagle fish on the sea fan. Those who like big things must not miss the parade of bumphead parrot fishs. They sleep in the wreck at night. After they get out of the wreck and line up at about 6:30 every morning, dozens of them will defecate together, and then they will depart to hunt.
Coral Garden Grade:★★★★ depth:3 - 26m

This is a long and wide slope with abundant corals. At shallow about 3 meters, there are hundreds of anemones and hundreds of clownfish. Critter is resident here. Ghost pipe fishs and leaf fishs also often appear. Lovers of banded eels can burst happy tears here. If they are lucky, they can see 6 or 7 of them in black, yellow and blue. If anyone can see yellow here, they must open champagne to celebrate. There is a cleaning station stay at 20 meters deep, where fish often go to clean their bodies. The slope of the coral garden extend to 50 meters deep. There is a platform over 50 meters, so you can see large creatures coming up from the deep, such as whale sharks and manta rays. There is a model plane on the sand. Several black fin sharks love to play here. There is also a small underwater temple around 10-18 meters away from surface, which has a mysterious smell of Hinduism.
Drop Off Grade:★★★★ depth:5 - 80m

Drop off locate in a small bay in the southeast of Tulamben. On the top of the dive site there is a Hindu temple built with volcanic rocks. The cliff is about 80 meters. You can easily enter the water from the coast and follow the black sand slope swim to the coral reef at the corner. We would have a great surprise after entering the water - there is a big jackfish storm hovering at 2-3 meters deep. The cliff is all covered by coral and spectacular giant seafans. Look carefully, you can find octopus,cuttlefish,scorpion, and many ghost pipe fish. From September to October, we can occasionally find the young Warty frog fish in the shallow. It is only 5 mm size and is good at crawling around! During the breeding period, two or three Pikachu will appear here together. Pay attention to the corner of the wall where you can see tunas and sharks. It is possible to see Mola Mola rising from the deep at sometime in May every year.
Wreck Slope Grade:★★★★★ depth:4 - 30m

Beside the USS Liberty Wreck and Coral Garden, There is a big slope mixed with stones and sand, it's the best muck dive site near the Liberty Wreck.
B.Boat Dive Area
You need to take local fisherman's little boat "Jukung" to get this area. it requires 10 dollars boat fee for each dive each diver. "Jukung" capacity is 3 people including dive guide.
Batu Kelebit Grade:★★★★
Go out by Jukung from drop off for about 8 minutes will reach BatuKelebit, a beautiful little bay. Divers need to get into the water directly from Jukung and then put on their equipment in calm water. At 2 meters deep, there is a vast platform of hard coral. Every morning, bumphead parrot fishs set out from the Liberty Wreck to find food here, so they can usually be seen from 8:30 a.m. to 9:00 a.m. The platform goes down along the slope. It is the most beautiful coral in Tulamben area. When there is current, there will be great opportunities to see large creatures passing by, such as sharks and giant groupers over 2 meters long.
Similar Dive Site: Palung Palung, Alammanta Grade:★★★


C.Kubu Area
We need to go Kubu area by truck. Each diver costs 5 dollars, including round-trip transportation
Kubu Reef Grade: ★★★
Kubu Reef is located in Kubu Village. A path leads you from the village to the beach. When you swim 50 meters into the water, you will see coral that is even more beautiful than the picture. Countless small fish swim around the coral area. Their shadows are as dense as raindrops. Go deeper, from 15 meters, you can see barrel sponges and huge sea fans. Of course, there are also various lovely small creatures in the sea area covered by volcanic ash.
Kubu Wreck Grade: ★★★★
This is a wreck that sank into the water in 2012. Due to the sinking of the seabed, the maximum depth of the wreck at that time was 30 meters but now the maximum depth has reached 35 meters. Occasionally, large creatures, such as Mola and sea wolves, pass by the wreck. There is also an old car on the wreck. It's very fun to drive in the sea.
D.Tukad Abu Area
We need to go Tukad Abu area by truck. Each diver costs 5 dollars, including round-trip transportation

Seraya Secret Grade: ★★★★★
It located in the southeast of Tulamben and it's a very famous muck dive site. Step into the sea directly from the black sand beach, stay at a depth of 3-9meters, This area that we call it Top Seraya which is the top of this shallow reef. There are some artificial reefs on the top of Seraya, attracting frog fishs to stay here. The color changing frog fish will change its body color according to its hiding environment, but they cannot change color in time. Each change takes a long time, so once it finds a place, it will stay for a long time. There is a large cleaning station in the deeper part of Seraya, attracting many fish to clean themsleves here. This dive site also the residence of Harliqun shrimp - known as clown shrimp. This kind of red and blue little shrimp is especially brilliant in taking pictures. It is the favorite of many underwater photographer.
Segara, Melasti Grade: ★★★★★
These two are also very interesting muck dive site, with very unique "donut" nudibranch.
E.Batu Ringgit Area
We need to go this area by truck. Each diver costs 5 dollars, including round-trip transportation

Batu Ringgit Grade:★★★★★
You may not have heard of this site, but it does not prevent it from becoming the best muck dive site in this area. This dive site is not big. You can't swim too fast. As long as you keep calm and be patient, you can definitely see that it is worth more. Because there are many kinds of seaweed here, there are more ghost pipe fishs hiding here than in other places. There are also many rare nudis. Devil Nudibranch also appeared here. It is only 1/8 the size of my nail plate! Frog fish, tiger shrimp, hairy shrimp... It is better to come when here is no current, although it is OK to swim, but it will disturb your mood of taking pictures.
Before you arrive at Tulanben, you may have heard that we do shore dive here, which is very different way to go in and out of water from the way of boat diving.

Every morning, we will arrange the team according to the divers' itinerary of the day, and assemble the equipment and cylinders.

In the morning, the diving team leader will have his mobile phone ready to contact dive center. Drinking water will be brought with you when you leave.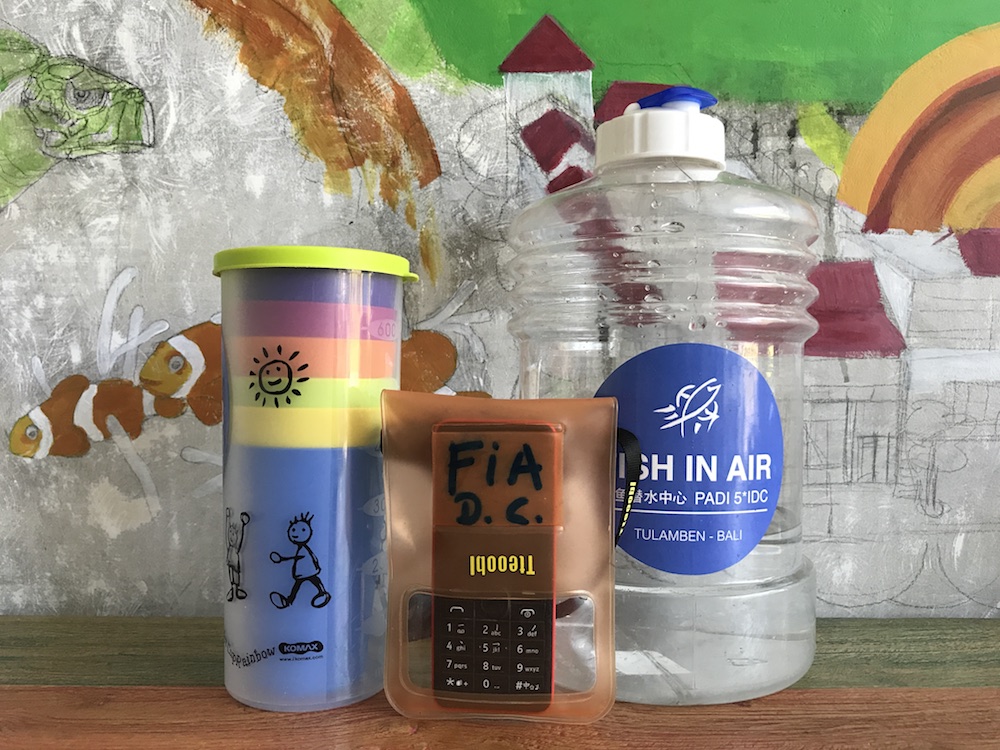 Non disposable water cup, Environment-friendly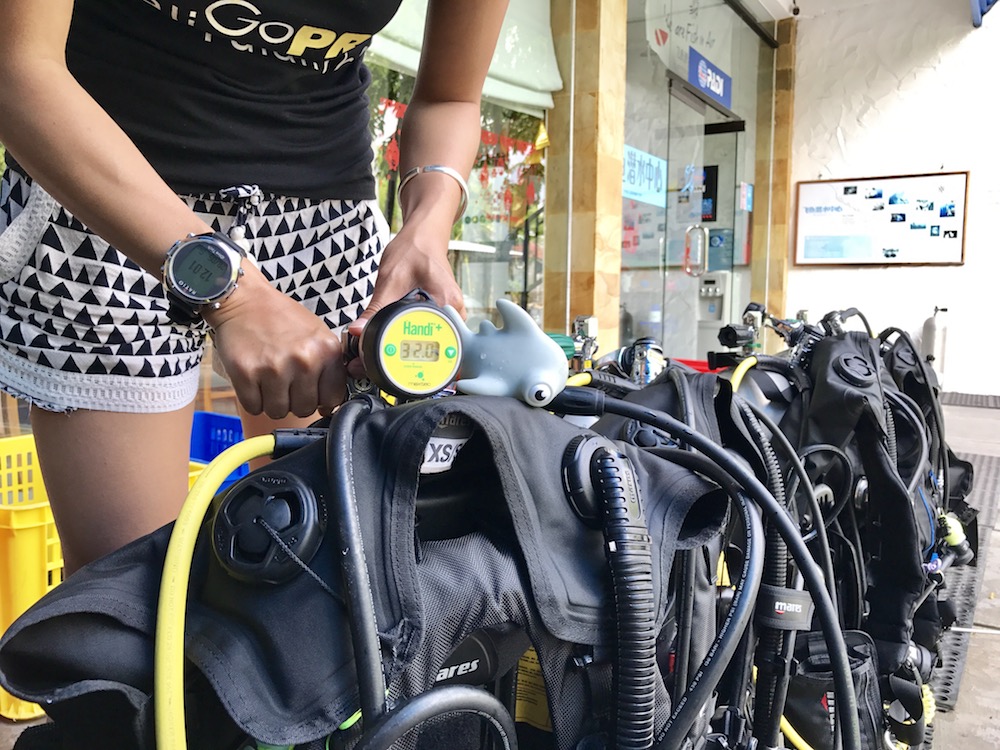 Equipment all ready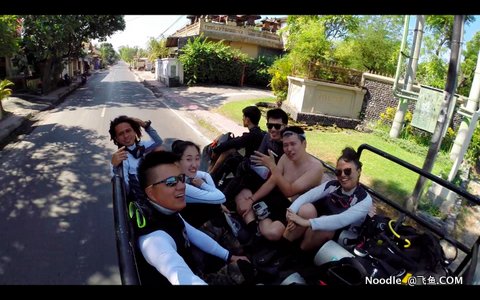 Depart by truck


About 3-15 minutes by truck to dive site


The equipment will be transported to the dive site by local people in a distinctive way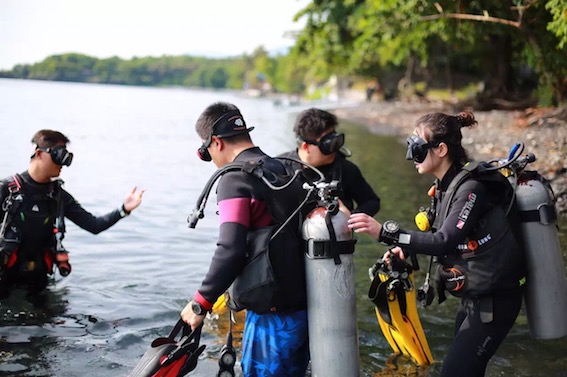 Divers wear their equipment on the shore and step into the water
---
Now let's look at the key points of go in and out of water when shore diving.
Go into water:

After entering the water, inflate BCD, float on the water and put on fins, then you can deflate and go into the sea.
Because the diving point is a slow slope under the water, you can swim more in the shallow places here. If you wear dry equipment to go into the sea for the first time, you'd better take an extra lead.

Go out of water:

When you come out of the water, swim to the shore where you can step on the ground, take off your fins, remember to straighten your knees when you come out of the water, so that your leg can support your weight.

There are many divers in such famous dive site as Liberty Wreck. Remember to put small items in the box of your group, or they will be caught by other teams if you are not careful.

SAFTY FIRST

Adventure ≠ Enthusiastic. Diving is a conservative sport, follow the safety rules, plan your dive and avoid problems.

---

Safety Supervision

In addition to maintaining the dive equipment without any worries, we also monitor the diver's safety behavior during the dive. After each dive, our dive guides and coaches will come to check the diver's remaining air, maximum depth, and dive time to remind divers of the issues they need to be aware of.
Once we find that a deliberate violation of safe diving has the potential to cause an accident, we will immediately suspend all activities of the diver and no longer welcome the diver to participate in any of our trips.
---
Safey Rules

✬ Check your equipment before every dive
✬ Manage your own air, 50Bar to do a safe stop
✬ Unless there is an emergency, a safe stop will be made at the end of each dive.
✬ AOW does not exceed 30 meters, OW depth does not exceed 20 meters
✬ If you lose your teammates in the water and you can't find them in 1 minute, ascent to the surface with speed of no more than 18 meters per minute. look for them on the surface.
---

Avoid Decompression Sickness

✬ The speed of rising does not exceed 18 meters per minute, even if it reaches the water surface from 5 meters
✬ If you accidentally exceed the no-decompression limit, you must perform an emergency decompression stop. If you have not completed the emergency decompression stop, please notify the dive shop after the water is delivered. We will provide pure oxygen in time and observe whether the diver has decompression sickness. symptom
✬ You must not use recreational diving equipment for technical diving and decompression diving projects, you must use equipment and plans that meet the requirements.
---
Health
Do not get drunk take drugs etc. before diving; being cold, just having surgery, excessive fatigue, severe dehydration, it is best not to enter the water;
Excessive effort during diving can cause high levels of carbonation, resulting in difficulty breathing, headache, dizziness, and lethargy.
If you are too tired in the water, adjust your breathing, find something to help, and rest after taking the water, you can be better.
Do not exercise vigorously immediately after diving, or go directly to the spa to avoid the confluence of bubbles in the body.
Fish in Air Tulamben Diving Price List 2023


Fish in Air Tulamben Price List 2023.pdf