DSD
Open Water
AOW / Rescue
Specialty Course
Why Us
Discovery Scuba Diving
I can go to see the beautiful underwater world without a diving license.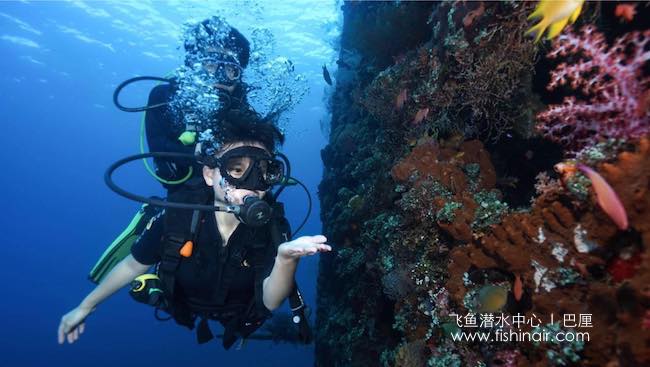 Not enough time to get a license? Never tried diving? Isn't swimming good enough? But I want to dive.
No problem! Fish in Air provides you with a quality-assured Discovery Scuba Diving, supporting English, Chinese, French, Indonesian. Don't need to worry about language communication.


---
PADI 5 Stars Instructor Development Diving Resort Certificate; PADI 2016 Teaching Honor Award;

We insures guests for diving professional insurance

Guranteed Teaching Quility
* We hold the legal business license of Indonesian dive shop and is the highest level diving school of PADI.

* Our Instructors are experienced and good at dealing with various issues. Clear and accurate teaching to reduce the possibility of diving accident.

Fine Equipement - Safty Diving
* All diving equipment are international brand, regularly maintained and cleaned. There has never been a security incident.

* Special diving masks for myopia are available .

* Our mask/regulator/diving suit will be thoroughly cleaned and disinfected. The air in the cylinder is clean and clear.

DSD Pool Training - Increase Success Rate

* Our diving arrangements: listen to the professional theory first → swimming pool exercises (10-40 minutes, depends on guests) → diving into the sea. Tension, panic in the swimming pool to adapt to the process will be greatly reduced, increasing the probability of success into the sea, comfortable environment conducive to learning skills.

* We don't drag ourselves into the sea to practice our skills and adaptations just to be in a hurry. It is a direct opposition to the irresponsible diving training behavior of not training directly to the sea.

Long underwater time Half hour underwater time guaranted

You heard that the diving time is only 10 minutes? No, No, we guarantee enough underwater time for half hour.
Our DSD Dive site is Famous US Liberty Wreck and Coral Garden


Quality meal & nice environment
Our resort restaurant is elegant and we provide delicious Chinese food. It's NOT an unhealthy cold-fried rice on the roadside, a salty, wet, cold sandwich.

You can take a leisurely view and get free WIFI. The dressing room washroom is clean and bright. Lockers for safety and 24-hour video monitoring.
Terms and Conditions
Good Health.Hypertension, blood disease, recent major surgery, spontaneous pneumothorax and other lung diseases can not participate, and those who are currently pregnant, have ear inflammation, or have a severe cold or nasal congestion can not participate
Please protect the sea, please also cherish the creatures in the sea, please keep the original ecology of the sea. Do not feed, damage or take coral. Those who intentionally destroy coral will be disqualified and will not be refunded.
Ratio of instructors to trainees : Usually 1 to 2, after the pool practice, If it is found that the unstable state we will increase the number of instructors.
---
Question & Answer
Q1 What dive sites will arrange? Can I choose a dive site myself?
Answer:There are a lots of dive sites around Tulamben. We will choose the most suitable dive site according to the sea conditions and tides of the day. We have experienced captains and dive guides, and we know very well which dive sites are best when they go. So just believe our choice.
Q2 I have a diving certificate but my friend only participates in Discovery Scuba Diving, can we dive together?
Answer:If you read above, you will find that the schedule of Fun Dive and Discovery Scuba Diving is different in the morning. If you want to dive with your DSD friends, you can arrange this dive in the afternoon. If you want to dive together all day, you can only give up the first dive in the morning. Another thing to note is that the maximum depth of the DSD is 12 meters, so if you want to dive together, you need to follow this maximum depth.

Q3 My family members don't dive. What can they do at the resort?

Answer:Non-diving guests can follow the tiled path to visit the colorful fenced villages; Enjoy the special spa in the resort; Swimmers can snorkel in front of the resort or shuttle the mangroves by kayak.

Q4 Why their photos look so different?

Answer:We offer camera rental service. Professional photographers are also available.

Nomal camera rental

Professional photographer follow & shooting

Picture quality: General
Lens: Normal lens
Color: Good in shallow water but not good in deep water
Camera Value: 600 USD
Price: 510,000 rp / day

Picture quality: 50 million pixels
Lens: Professional wide-angle lens
Color: External UW flashing lights to reduction the colorful ocean.
Camera Value: >20,000 USD
Price: 1,100,000 rp /1 person/dive
P
rofessional photographic equipment
Camera: Canon 5D Mark IV
Lens: Professional wide angle lens or fisheye lens
Housing: Seacam 5D dedicated housing
UW Flash lights: Seacam 150 x 2
ATG:Lumen lamp 5000*3 and buoyancy arm, vacuum valve, UW flash special pin.

All underwater pictures on this page are taken by our professional photographers
Open Water Diver Course

Become a diver and the world will open another door.
As a responsible dive shop, we will never be lazy to teach less skills; we will not let you pass the exam when you not really understand the theory.
A license will only be issued if you complete all the requirements. We teach applying the theory and techniques flexibly to the actual situation and environment also according the standards required by PADI at the same time. That what the real diver is!
In 2016, Fish in Air received the Advanced Teaching Honor Award from PADI Asia Pacific Headquarters.
---
Study time: 3 whole days.
Age limit: over 10 year of age
Physical requirements: heart disease, high blood pressure, blood diseases, large-scale surgery, spontaneous pneumothorax and other lung diseases can not participate, currently in pregnancy, ear inflammation, severe cold and nasal congestion can not participate. If you have a similar illness, you need a doctor's permission to dive. You can also contact us for more detailed health requirements.

---
Course Arrangement: (The following schedule for gerenal condition. Actual arrangement is adjusted according to the progress of student)

Day1, Theory learning in the morning, read the books and watch the videos, confined water skills and waterborne assessment in the swimming pool at afternoon.
Day2, Open water dive 1 and 2 in the morning, theory exams at afternoon.
(If confined water skills has not been completed in the first day, then the next day will continue the remaining courses in the pool.)
Day3, open waters dive 3 and 4.

---

Learning content: What are the skills you will learn with reference to the teaching requirements of the PADI system?

Theory There will be the following 5 units:
1. Basic diving knowledge 2. Equipment & Environment 3. Problem slove 4. Decompression theory 5. Diving plan;
After completing the knowledge review of 5 units, you have to pass 4 quizzes and the final exam.

Waterborne assessment There will be the following 2 test:
1. 200m swimming or 300m snorkeling test 2. 10 minutes of unhelpful water surface floating.

Confined Water Practice all confined water skills in swimming pool
Open Water 4 dives in the sea and you need to complete the mask skills, buoyancy control, diving plan, Controlled Emergency Swimming Acsent, use of compass, etc.



When you have completed these things you are already a qualified OW diver. Then we hope that you can:


1. Understand basic diving theory. Understand why you should keep a safe dive and know what is the right thing to do when you diving.
2. Skilled in all diving skills you have learned during the course. The problems during your dive can be resolved in a timely and effective way.
3. Be able to swim independently; be able to control neutral buoyancy; aware your position in the water and take action in time.
4. Plan a dive and able to plan how to use the air and make dive safty.

ADVANCED OPEN WATER DIVER COURSE

There are wider seas waiting you to cruise and more spectacular underwater scenery waiting you to watch.


If you have heard that the AOW course is all about playing, there is nothing to learn. In Fish in Air, there will be some differences. In addition to the same diving that you can play you will learn the thinking and the posture that suits diver's identity. This is the "THINK AS A DIVER" in our teaching philosophy.

To be a good diver - Guides are always show you first when they found something good - You never make sandstorms - You always feel better than the others when current is strong - You need to have a good body posture and buoyancy.

Or course is focuse on neutral buoyancy and better body posture to stablish a good diving habits and vision. Your diving level will take a leap in these 5 dives.

Course Time: 2 whole days, 5 dives
Course requirement: Open Water Diver Certification

1) Divers who have got a PADI Open Water Diver license (or an equivalent license at other diving agencies);

2) Divers who more than 12 years old.

Two required specialty adventure dive: deep diving and underwater navigation

Three elective specialty adventure dive: According to the student's interests, their own situation and the local sea conditions at the time, choose the appropriate 3 of the dozens adventure dive.


E.g:
1)Peak Performance Buoyancy (Rapidly improve your buoyancy control level, kick posture, reduce weight, extend air usage time)
2)Fish Identification(Fish in Air is a famous ocean encyclopedia of diving, sharing with you the most interesting creatures in the sea.)
3)Drift Dive(Browse the world-class cliff dive sites in Bunaken National Marine Park in gentle current and learn to control the dive at the same time)
4)Night Dive(Volcanic ash landforms breed strange creatures, rare and colorful Mandarin fish swim out after the twilight everyday to find a lover...... Come to see!)

and so on....


After you have completed the 5 dives and finish the 5 knowledge reviews then you can graduate.
---

EMERGENCY FIRST RESPONDER (EFR)
Make youself able to help others wherever underwater or on land

Course Time: 1 whole day in classroom.
Emergency First Responder(EFR),This course will teach you: when encountering emergency events, such as heart attack, car accident, fall injury, drowning and other life threatening events, according to the principle of primary and secondary rescue, give help to others at the first time, extend the life time of the patient, and minimize the injury to the patient caused by the event.
Course requirement: NONE
Anyone can take this course if they want.
Course arrangement:
Theory study, examination, skill practice and on-site simulation. The content of Fish in Air's EFR course is of great value. In addition to the primary rescue and secondary rescue, there is also learning how to use cardiac defibrillators and caring for children.
---
RESCUE DIVER COURSE

A challenging and funny course with practical value. Life is only once, make it safe.


Course Time: 2 whole days. Including theory learning, pool exercise and 2 dives in the sea.
Course requirement: Advanced Open Water Diver Certificated
1) Divers who have a PADI AOW license (or equivalent license from other diving agencies)
2) Divers who have an EFR license (or CPR skill trained, equivalent license from other agencies) and the license should be valid in 24 months.

The Fish in Air rescue course will have more skill exercises than the general rescue course required by PADI. For the same skill exercises, we will ask the diver to practice particularly well in the pool, then go to the sea to repeat the exercise and the simulation exercises. The content of the course has been increased because we firmly believe that only skillful skills can be used stably.
What you learned in the course is not only how to save people and yourself, but more importantly, it allows people to start from a safe diving plan and avoid the possibility of accidents.
SPECIALTY COURSE


Nitrox Course
If you love underwater photography or you like do 3 more dives a day, you can't miss it.

Course Time: 2 hours in classroom, no dive
Course Requirements: Open Water diver license.
Course Content:Basic considerations of Nitrox,oxygen exposure treatment, distinguish air in cylinder and setup diving computer.
Wreck Advanture Course
Don't miss it! World Class Wreck - US liberty. It's just in front of our dive resort.
Course Time: 2 days, 4 dives
Course Requirements: Open Water diver license. 15 years or older.
Course Content:
1)Navigation of Wreck
2)Investigation cabins which able to go
3)Wiring
4)Wreck infiltration
5)Appropriate Kicking in Wreck
Underwater Photograph Course
Want to keep those beautiful moments underwater ?


Course Time: 2 days, 2 dives
Tulamben is a famous photography paradise, where various photography competitions are held every year.

You have a camera, but you don't know how to use it well? You got good pictures, but you are not good at post-processing?
Join this course. you will find the right way of UW photography.


Peak Performance Boyance Course
Are you a high-level diver? Talk is useless. It will be known when get into water.


Course Time: 1 day, 2 dives
Course Requirements: Open Water diver license.
You can stay stable in any place in the water that you want to stop, and you can get as close as possible to what you want to see without damaging it.
This course helps the diver adjust the graceful and completely relaxed posture and also helps adjust the appropriate weight for save air.
A case: In August 2018, an European family came to study. Before the training, the dad used 6kg wight and the diving time less than 30 minutes. He was the enemy of the whole family.
The day before they left, dad used 2kg and dive for 1 hour which is the pride of the whole family. Very useful specialty.


Deep Dive Course

The higher the climber always wants to go, the deeper the divers always wants to go.

Course Time: 2 days, 4 dives

Course Requirements: Open Water diver license. 15 years or older.
After trying a few scuba diving, you will want to explore deeper.
The excitement and mystery of the deep waters is what makes divers go for it.
The underwater cliffs of Bunaken are very suitable for deep dive course. Our deep dive course training include the use of emergency air cylinders to ensure the safety of students.
You will learn the techniques of diving at depths of 18-40 meters / 60-100 feet, deep diving considerations and plans. The maximum depth can be 40 meters.


SIDE-Mount Diver Course

Who is that cool diver?

Course Requirements: Open Water diver license. 15 years or older
That's awsome!First of all, the side-mount diving is so cool!
Side-mounte diving make it easier to transport equipment and reduce the burden on your back.
Easy to monitor all equipment because they are all in front of you.
Increase your gas supply and allow you to dive for longer periods of time
Moving the cylinder from the back to the side immediately eliminates the pressure on the back, giving you more flexibility to enjoy the diving.
---
You may want to ask, with so many dive shops, what's special about learning courses in Fish in Air? Bali is so big, what are the advantages of learning to dive in Tulamben?

Our teaching quality is guaranteed


PADI 5 Stars Instructor Development Diving Resort Certificate; PADI 2016 Teaching Honor Award;

3) We insures guests for diving professional insurance

* We hold the legal business license of Indonesian dive shop and is the highest level diving school of PADI.

* Our Instructors are experienced and good at dealing with various issues. Clear and accurate teaching to reduce the possibility of diving accident.

As a PADI five-star Instructor development dive resort (all of our student cards will be gold cards), we can help you go Discover Scuba Diving, help you get diving licenses,even cultivate you as a professional diving instructor along the way. Our high standard teaching has a good reputation. In 2016, Fish in Air won the Teaching Honor Award for Advanced Education in Asia Pacific Region issued by PADI , it affirmed the quality of our teaching - this award can't be won only by attracting people.
---
Our equitment quality is guaranteed


If you ever heard that some unpleasant diving experiences are caused by diving equipment, Don't worry about it. This is absolutely impossible to happen in Fish in Air.

Our cylinder shall be visually inspected and maintained every six months.

Our gauges are completely examine and repair every month.

The grease on the rented diving masks will be cleaned with detergent everytime.

After divers leave, used regulator will be disassembled and cleaned inside and outside with a toothbrush. Mouldy? That's impossible!

If any sand stuck in BCDs, which shall be replaced and cleaned immediately.

Even weights to be cleaned every time they come back from diving!!!!

It is not difficult to do these details once, but it is difficult to persist through the years. We have paid a lot of attion to carefully maintain equipments. Many divers told us that if the rental equipment of all the dive shops were as good as those of Fish in Air, we might not need to buy the equipment ourselves.

---
Our Insturcator qualification is guaranteed


Adjust body posture Adjust breathing and buoyancy

The course content form that each of our students has to fill in

Fish in Air's Instructors are a group of people who love diving. We want to teach real diver instead of "diving license holder".
Fu Chun, the head of training, she is the highest level instructor of the PADI system - Course Director,
She has been teaching in Bali since 2009. She has extensive teaching experience. She has been interviewed by many media. Our instructor team is unified by her training and keep a consistent level of teaching.

---
Comfortable Environment / Excellent Facilities

Our classroom is clean and bright,
Our training swimming pool is clean, include deep and shallow parts,
Shower room, Locker room, we have everything you need.


---
Ease Dive / No Seasickness

Say goodbye to exhausted after diving.
Our course starts at 8:30AM and ends at 5:30PM. Most dive in Tulamben is Shore Dive. You can drink tea and water when you finish every dive. You even can have a 2 hours nap at noon.
Swimming pool and classroom is just in our resort.
Divesite just 5 minutes away form resort.